Jane Castelan Buccola
pastel, oil and acrylic painter
Coming and Going
Feel the Heat
Losing Self
Letting Go
Traveling Through Dimensions
Looking Deeply
About the Artist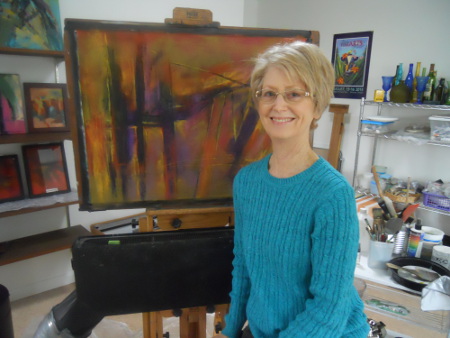 During an artistic career spanning over 40 years, Jane Castelan Buccola has worked in oil, watercolor, batik, pen and ink, and acrylic but always returns to her favorite medium, pastel. During her life, she has explored many genres such as portraiture, landscape, still life and recently, abstract work.
As a teenager, Castelan Buccola had the opportunity to study in Europe for a year. During that time, she was exposed to many works of art throughout history which created a lasting influence on her life and career choices.
With her exploration into abstract painting, she has developed the ability to use her intuition more fully. She enjoys the process of using the right brain and the inspiration it can provide. Pastel is the perfect medium for her venture into abstract painting, allowing for spontaneity and freshness of color.
Castelan Buccola has a degree in Art from UC Irvine, is a member of Lunaria Gallery, a Signature Member of the Northwest Pastel Society, and a member of Silverton Art Association. She has resided in Silverton, Oregon for 45 years.
Artist Statement
Painting with no intention is the process of letting the intuitive side of the brain take over. In the process of surrendering to the intuitive mind, you set aside your thinking mind and immerse yourself in your experiencing/perceiving mind.
I begin with a blank surface of heavy print paper and no preconceived ideas. The only planning I have done is to choose a palette of colors. I then take some charcoal or dip a brush in ink and begin making marks here and there until I have a composition of values. Then I add an underpainting of gouache or fluid acrylics using the colors I have chosen or complementary colors. I may add some gesso or more ink. Then I cover the entire paper with a pastel ground which provides "tooth" to the paper, a good surface over which pastel may now be applied.
As I paint, I continually ask myself, "What does it need?" Sometimes I ask, "Where is this going?" This is a journey and sometimes it is not clear where the journey ends or how. That is for you, the viewer, to decide. That is why I hesitate to title my work by describing what I see and purposely title my work in a non-descriptive manner. I hope the viewer will bring their own imagination and intuition into play as they experience my work.
Contact
email: janecastelan@yahoo.com
phone: 503-873-5509